Welcome to the YouLi + TTC Help Center!
This is your go-to place for any questions you have (search them in the search bar).

Plus you can reach out to us, the YouLi Support Team, in the chat box on the bottom right, here or in the YouLi Platform.
As a quick intro,
At YouLi, we do things a little differently because we know that algorithms don't know the best places to go, only the best organizers do. And those organizers are you!
So we have created a platform that empowers you to create transformational travel experiences before, after, and during your trip.
After 3 years of close partnership, YouLi and the Transformational Travel Council have co-created the COMMUNITY PLATFORM for the TTC Allyship.
The new TTC Community Platform powered by YouLi gives the Allies space to showcase their profiles and travel experiences and opens new opportunities to establish business partnerships.

Watch the 3-min introduction to your TTC Community profile by the Co-Founder of YouLi, Jennifer Fein:
The YouLi platform empowers you as a TTC Ally to:
Create beautiful & accessible TRIP PAGES - interactive itineraries that are personalized to every Traveler, and Co-Planner, and save your time updating multiple PDFs.
Collect BOOKING PAYMENTS for your trips via Credit Card, Paypal, Direct Bank transfers, and even a donation link.
Simplify your registration forms, digital signatures, and document exchange with AUTOMATED TASKS for your travelers.
Give your Travelers convenient access to their itinerary and all trip documents even when offline in a MOBILE APP powered by YouLi
TTC Allyship
IMPORTANT: If you are an active TTC Ally, your TTC Allyship account is your YouLi Account. If you haven't logged in to your account yet, use ? THIS LINK TO LOG IN
TTC Allyship Community Profiles powered by YouLi
TTC Allies with Business Allyship receive a PUBLIC PROFILE on the Transformational Travel website and can share their Profile externally. Individual members get a COMMUNITY PROFILE that allows visibility within the community, but cannot be shared publicly.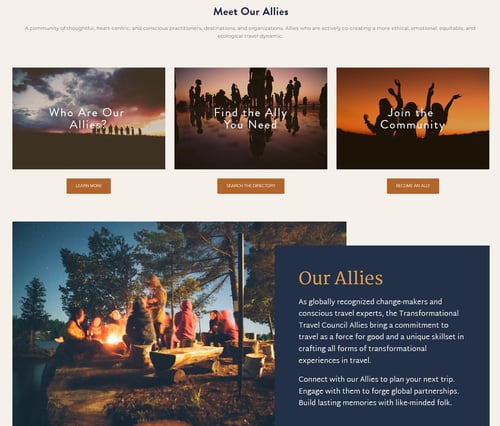 Additional, TTC Allies enjoy:
TTC Profile (public under business membership)
Transformational Trip Template designed by Tanner Colton
Complimentary Onboarding from the YouLi Support Team
TTC-exclusive educational webinars & ongoing Community Webinars.

To learn more about the TTC Allyship platform and your profile, watch this overview with Tanner Colton (TTC) and Jen Fein (YouLi).

Creating Your Trip Page in YouLi
If this is your first time building an itinerary in YouLi, we've created a whole collection of content to help!
Set up your logo, font, page color, and website backlink!
Listing Your Trip Pages on the TTC website
As a TTC Ally, you can publish and list your TRIP PAGES (itineraries) under your profile UPCOMING TRIPS on the TTC website. See the example below.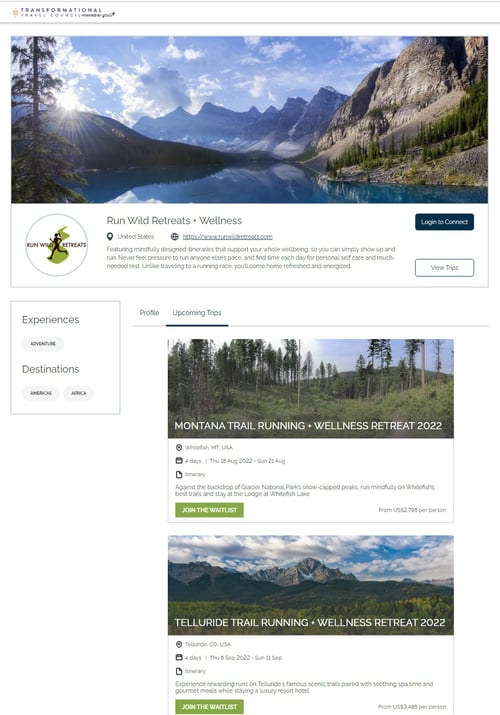 IMPORTANT: For the first year of 2022, the TTC will not be charging any fees for listing your trip on the TTC website. You will only be paying the YouLi booking fee for credit card payment.
NOTE: You can avoid paying the YouLi booking fee by upgrading to a YouLi PRO subscription and switching to the no-fee payment options (like direct bank transfer).

To be sure your Trips are listed, check the mark LISTED under the UPDATE TRIP menu tab.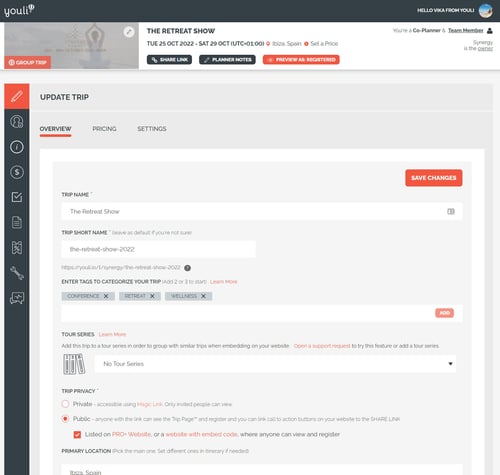 NOTE: As a YouLi user, you can always integrate the TRIP PAGES you created in YouLi into your own website.


Want to know more about how YouLi fits with your website?
Love to learn on YouTube? So do we!
Here is the first video in our specifically made youtube playlist just for the TTC!
Want to optimize the TTC partnership with YouLi?
Of course, who wouldn't right! We are constantly updating and bettering our technology. Discover ALL kinds of ways you can take your TRIP PAGE:
Chatbox from within the YouLi app (look on the bottom of your screen

To ask questions about your TTC membership, contact the TTC team at kolena@transformational.travel